Footballer Cole Kulhanek is ready to do whatever it takes to achieve his goals
What started as a child admiring his father quickly turned into a passion for a sport. Cole Kulhanek remembers watching his dad play goalie at a recreational soccer game when he was 6 years old. Wanting to be like him, Cole decided that he too would play soccer and be a goalie. This desire led Kulhanek to a life devoted to the sport of football. And, at just 17, he has already reached levels of play that few will ever reach.
Kulhanek is in his fifth year playing with the Seattle Sounders Academy. When he started with the team, as a middle schooler, he left school in the middle of the day to arrive on time for training. Eventually, the schedule of practices – or games – six to seven days a week became too heavy. In a bid to play football at the next level, he decided to drop out of Sehome High School and move to Issaquah, where he lives with teammate Cody Baker and his family.
Kulhanek now attends an online high school that balances school with its rigorous training program. This approach is not traditional and it can be difficult to be away from his family, but he chooses to do what is best for his football career.
Kulhanek has retained the goalkeeper position, which brings with it all the pressure of being his team's last line of defense.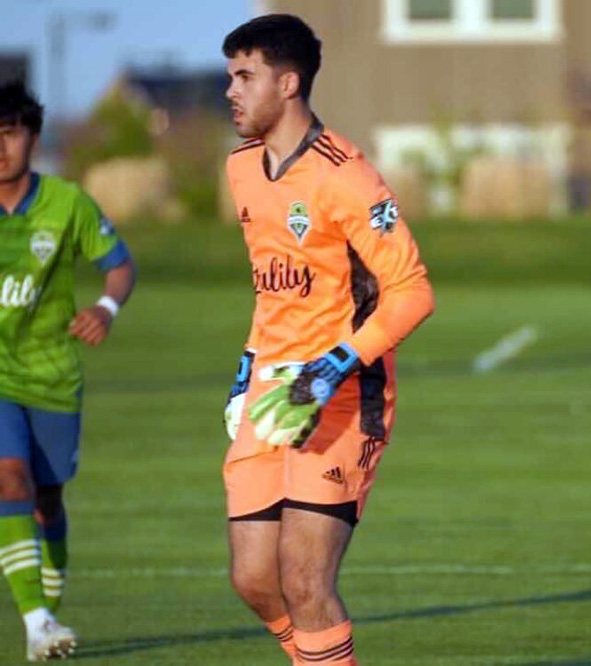 "It's quite difficult because you're kind of in your own mental zone; no one has the same position in the team," says Kulhanek. "It can be quite a lonely position throughout the game, but it's also fun to slide through the mud."
While most high school students are approaching the middle of their senior year and eagerly awaiting the spring soccer season, Kulhanek has embarked on a different path. Playing at the high level offered by Seattle Sounders Academy caught the attention of colleges, and Kulhanek committed to Grand Canyon University. Eager to keep progressing, Kulhanek did the extra work to graduate from high school early. He has just completed his last courses and will graduate at the end of 2021.
Wasting no time, he entered university on January 3, a few weeks before his 18th birthday. Going to college early is a big deal for Kulhanek, like any teenager, but he's more excited than nervous. Having already lived away from home, he feels ready for the transition. He is excited to be on campus and getting to know his classes and his team so that when the time comes, he is ready to perform on the field.
Kulhanek had options when it came to choosing which university to play for, but Grand Canyon University stood out due to the team's mindset. "Other schools were more individual and everyone wanted to go their own way," says Kulhanek. "But at Grand Canyon University, every player wants the collective to win, not just individual accomplishments. There really was a sense of unity. »
While Kulhanek is excited to step onto the court and play for Grand Canyon University, his ultimate goals extend beyond college. "Getting to the highest possible level has always been my goal," he said. "Just to push me as far as possible. My goal is to be professional for at least some time in my life, whether in the next two or four years. I will try to continue this as long as my body can handle it.
If he has the opportunity to play professionally before he graduates, he will go without hesitation but will not lose sight of his education. He plans to major in business and sports management. While his football career takes him away from in-person education, he plans to complete his degree online and knows other professional football players who are doing the same.
Kulhanek hopes to one day return to the Sounders organization as a professional goaltender, but he's willing to go wherever it takes to achieve his dream. There are other MLS teams and plenty of football around the world where he would be happy to take a goalkeeping spot.
"We're the only position that can't be moved to another position, and there's only one playing, so there are very few that are kept on a roster every year," Kulhanek explains.
Grand Canyon University's football season begins in the summer of 2022. Kulhanek will need to earn a starting spot, but keep an eye on him because there's no doubt he'll work hard to be on that pitch.
Check out some of Kulhanek's 2020 highlights: